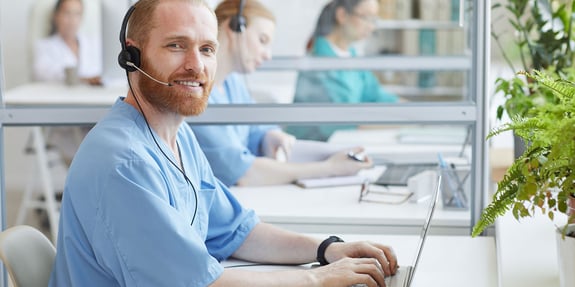 Digital Supervision
Using a camera and a single application, the home care services can swiftly check to see if a user is well. Digital supervision enables patients to live at home longer and to leave a hospital or care home sooner.
Why use digital supervision?
The possibility to check in on patients through a camera is an effective supplement to a physical home visit. Home care services save the time they would otherwise have spent on driving to patients. Digital supervision during the night can be carried out without disturbing a patient, thereby contributing to better sleep hygiene. Institutions can also use digital supervision. SINTEF has documented that digital supervision in institutions gives calmer nights for residents and safer working conditions for healthcare personnel.


How does digital supervision work?
Home care services and health institutions use digital supervision as a window into the users. Visits are planned, event-based or continuous:
Planned supervision

takes place at regular, pre-defined times.
Event-based supervision

activates an alert if the user moves out of a defined zone, for example, a bed, chair or door. Sensors in the camera can give alerts about situations that are important to follow up for each individual user, for example, restlessness or inactivity. This allows health personnel to prevent negative situations from arising.
Continuous supervision

allows health personnel to monitor multiple users at the same time.
The cameras are connected to Tellu's health platform, and our response centre can handle the supervision and health alerts.
Functionality in TelluCare digital supervision
HD camera with IR light for dark rooms
Microphone for listening in and sound alerts
Movement sensor with push notification
Mobile, tablet and desktop application
Secure login with an ID port
Encrypted video transfer
Possibility to anonymise images
Connected to Tellu's e-health platform and response centre
Digital supervision provides safer working conditions for health personnel, who are notified at the beginning of a potential incident. At the same time, user privacy is well-preserved. Video streaming from the cameras is not saved and individuals in the image can be anonymised when required. Our platform has been developed for the health sector and satisfies stringent privacy and data security requirements.
Help with getting started
If you choose Tellu, we will be your advisers and drivers through the whole process to safeguard a successful result.
We will help you with:
the training of health personnel, administrators and users
workshops to assess requirements and functionality
work on establishing a risk and vulnerability analysis (RVA) and a Data Protection Impact Assessment (DPIA)
24/7 monitoring of the IT systems
technical support
Would you like more information on how we can help you through the process?