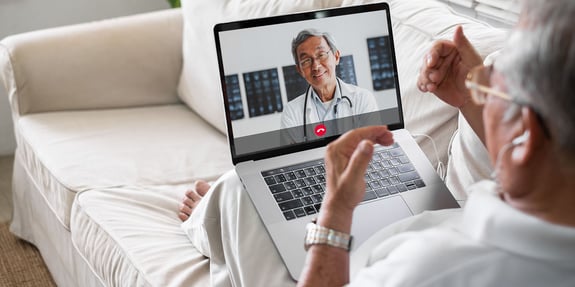 E-Health Platform
Tellu's e-health platform makes it possible to deliver future-oriented care services more efficiently and securely.


Why use our e-health platform?
Our complete e-health platform is built for integration, i.e., connection to other digital services and products. The platform allows users to exchange information between different systems. It can be connected to the Internet of Things and communicate with assistive devices and other welfare technology equipment that municipalities already use. With its open architecture and immense flexibility, our platform opens up for an ecosystem that can create more innovation in the health sector.
The platform is continuously being developed in close cooperation with a range of end users, first and foremost health personnel in municipalities and hospitals, but also patients and next of kin.
A profitable investment for municipalities and health trusts
Because it can exchange information between different systems, Tellu's e-health platform streamlines many work processes. It is also constructed to integrate with new welfare technology that might be developed in the future. This makes it a profitable investment.
The platform is designed for flexibility. It can be used with your current systems and equipment making it quick and cost-efficient to get started with new digital solutions.
Tellu offers one technology platform for all user groups in the health sector. All patients living in their own homes, care homes and other health institutions can use the same services and medical equipment (such as sensors, safety alarms and so forth).
Functionality
Can be integrated with services, medical equipment, sensors, applications and digital solutions from Tellu or third parties
Single sign-on through Azure AD, Health ID or ID Porten
Developed in line with international standards for health care data, communication, integration and data storage
Complies with Norwegian and international legislation and standards for security, privacy and accessibility
Easy to connect to for medical equipment suppliers
Tellu's e-health platform allows integration across different systems, services and equipment. Flexible technical architecture and open APIs make it easy for third parties to connect their products, and use the data and functionality the platform offers.
The platform houses an ecosystem of service providers, equipment suppliers and technology companies, all of which specialise in healthcare. By integrating your equipment with our platform, you gain access to a larger market and new partners.
Our platform builds on central data processing standards such as HL7 FHIR. This makes it easier to develop new products and services in partnership with Tellu or other health technology companies.
Exciting opportunities for health technology companies
By integrating with our platform, technology companies get access to a range of fully integrated welfare technology services and medical equipment that is used across the health sector. It provides opportunities to build new and value-added services, to team up with new partners and access a larger market.
We share data and features on the platform with integrated health technology companies in order to achieve seamless information exchange across digital solutions.
It is easy to scale solutions developed on our platform. The technology supports international open standards and protocols for data processing, security and accessibility, such as FHIR, SCAIP, ISO27001, OpenID and HEART.
Help with getting started
If you choose Tellu, we will be your advisers and drivers through the whole process to safeguard a successful result.
We will help you with:
the training of health personnel, administrators and users
workshops to assess requirements and functionality
work on establishing a risk and vulnerability analysis (RVA) and a Data Protection Impact Assessment (DPIA)
24/7 monitoring of the IT systems
technical support
Would you like more information on how we can help you through the process?