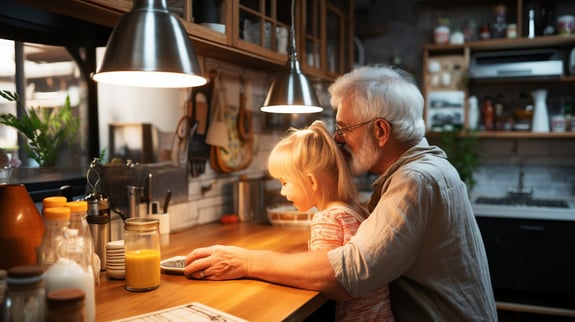 Remote patient monitoring
Patients report their own physical and mental well-being using a mobile phone or tablet. This allows health personnel to monitor many patients simultaneously and to prioritise those who need it, whilst adequately following up the patients in their own homes.
Why use remote patient monitoring?
Remote patient monitoring makes it possible to detect and prevent changes in the physical and mental health of patients living at home. Health personnel can monitor the relevant health data of many patients in a transparent system and implement measures where necessary. This means more time to spend on acute needs and preventive medical care, and less time on routine follow up.
Health personnel assess all reported measurements and symptoms, providing added security to the patient. Remote patient monitoring provides close interaction between the health services and the patient without the need for physical contact with a hospital or doctor. It gives patients more agency over their own health. Many patients experience that they have more energy to cope with other aspects of life, as well as increased independence.
How does remote patient monitoring work?
Remote patient monitoring from Tellu consists of the patient app 'Dialogg', medical sensors and a web application for health personnel.
Patient app:

With 'Dialogg' on a mobile phone or tablet, the patient answers questionnaires related to their health, and takes relevant measurements using sensors, for example blood pressure, pulse rate, oxygen saturation, weight, blood sugar or temperature. The patient can communicate with health personnel via chat messages or video in the app.
Health personnel web app:

Health personnel log in to Tellu's web app and obtain access to the follow-up centre containing all the reported data. The patients are monitored, prioritised and followed up from here. The health personnel application provides a good overview of the health condition of each patient. The data can be displayed as tables or graphs. Threshold values can be set for measurement results that must be followed up. This enables early detection of a deteriorating condition.
Tellu's remote patient monitoring service has been developed and tested for both hospitals and municipalities. It can be used to remotely monitor many different types of illnesses.
Functionality
Adapt the type of information that must be collected from each patient
Get reports with personally defined data on/at a desired date and time
Threshold values for measurement results that require follow up
Communicate with patients through messages or videos in the Dialogg app
Share data securely with other practitioners, for example, a GP
Separate applications for patient and health personnel
Secure login with 'ID porten'
Data from the patient's self-taken measurements are encrypted and transferred through a medical gateway to Tellu's e-health platform. Only health personnel can access the patient's reports and measurements in the Tellu web application. Our platform has been developed for the health sector and satisfies stringent privacy and data security requirements.
Help with getting started
If you choose Tellu, we will be your advisers and drivers through the whole process to safeguard a successful result.
We will help you with:
the training of health personnel, administrators and users
workshops to assess requirements and functionality
work on establishing a risk and vulnerability analysis (RVA) and a Data Protection Impact Assessment (DPIA)
24/7 monitoring of the IT systems
technical support
Would you like more information on how we can help you through the process?